I can't believe I missed this:
It's National Blog Posting Month!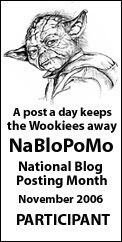 I write a weekly column on blogging for the
Toledo Free Press
and here I had no clue there even was a National Blog Posting Month, until I stopped by and visited Val at
I think about
and there it was...Yoda, telling me to Blog it! Baby....
Thankfully I do blog almost every day, even before I decided to try out the whole
PayPerPost
adventure and in checking I have blogged every day in November so far. It should be pointed out that I can't participate in the contest part because I didn't sign up in time but I'm posting this and the image on my side bar to support all of those who actually did pay attention and knew it was National Blog Posting Month.
:-)